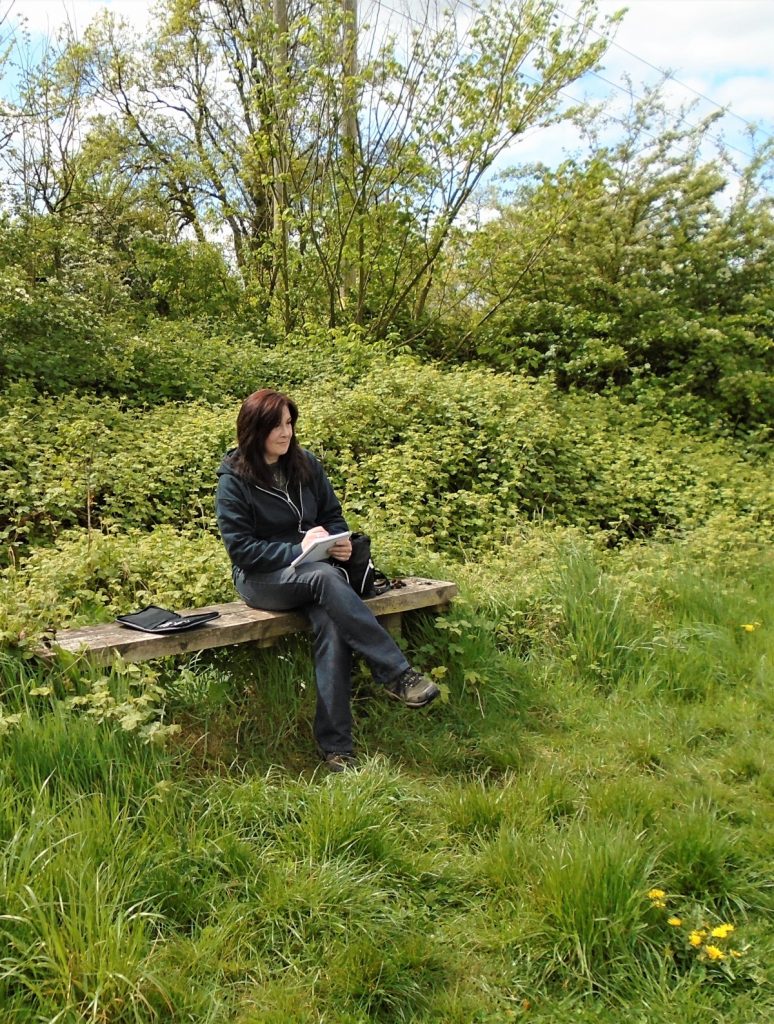 Sketching near  Heather Lane, Leicestershire.
I have always been creative and as a fine artist I am mainly self-taught. After leaving school I completed a BTEC Level 3 course in Art and Design, and worked initially in graphic design and illustration, but I also explored other creative pathways such as jewellery making, ceramics, alternative fashion design, carpentry and photography.
After moving to the Leicestershire countryside in the late 1990s, my interest in fine art, wildlife and the rural landscape on my doorstep started to grow. Soon after I began receiving requests for animal portraits and landscape paintings, and this finally led me to focus on painting as my main creative endeavour.
Since then I have become a successful artist selling my work regularly through private commissions and mainly local exhibitions, I also exhibit annually as a member of the Leicestershire Pastel Society.
I work in a variety of mediums such as watercolour, acrylic and oils, but soft pastel has become a firm favourite over the years. Most of my landscape paintings are created using this wonderful medium as I love its immediacy and textural qualities; especially for expressing light, colour and atmosphere. I find plenty of inspiration when I am out walking in the countryside and I enjoy the challenge of trying to capture the fleeting moments I observe throughout the changing seasons.
Fuelled by a passion to share my knowledge and love of art with others, I began my teaching career in late 2007, combining part-time teaching with studying to achieve my professional teaching qualifications.  Since then I have steadily developed my teaching experience and expertise alongside the continual development of my own arts practice.
I currently teach a range of creative and arts subjects through workshops, demonstrations and classes for various groups across the county, including 3 regular weekly drawing and painting classes run through the Leicestershire Adult Learning Service's GoLearn.